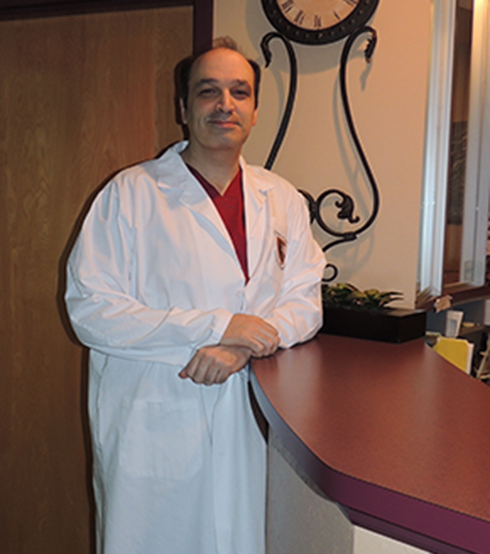 Dr. Adly Awayes
About Dr. Adly Awayes
DMD, FAGD, FAACP
Dr. Awayes became a dentist in 1994 and opened his practice in 1999. If you are looking for a dentist who cares, Dr. Awayes is the one you are looking for.
Dr. Adly Awayes, DMD, FAGD, FACCP, established his family practice in 1999 after graduating from the Boston University School Of Graduate Dentistry and with Residency and Fellowships at the University of Connecticut School of Dentistry and Veterans Administration Hospital in West Haven, CT. After Graduation and Residency, Dr. Awayes worked in both private practice and for the State of Delaware: providing dentistry to the Department of Corrections while his office was under construction.
The office opened in late 1999 providing both general restorative dentistry but also much-needed emergency dental service to southern Delaware.
In 2004, the first step to a digital office came about with the acquisition of a CEREC unit, which allowed in office porcelain restoration designing and milling. In 2006, digital x-rays were introduced followed by complete digital record keeping in early 2009.
In 2006, orthodontics and pediatric interceptive orthopedics were introduced followed by Invisalign orthodontic treatment. Parallel to orthodontic treatment in the office was the development of a sleep disorder practice and a rudimentary jaw pain and disorder practice.
In 2007, Dr. Awayes received his fellowship in the Academy of General Dentistry for active pursuit of continuing education well beyond the required state licensing laws and is slated to advance to Master of the Academy of General Dentistry in 2014.
In the summer of 2012, Dr. Awayes received his fellowship in the Academy of craniofacial pain and updated the equipment and training protocols. This allowed for treating more advanced head and neck pain, temporal mandibular pain and disorders, and migraine headaches related the muscles associated with chewing and jaw function.
In 2016 Dr. Awayes also became a Diplomate of the American Board of Craniofacial Dental Sleep Medicine.
The office's span of treatment includes craniofacial disorders, sleep disorders, orthodontic, cosmetic, as well as general restorative and pediatric dentistry.
Dr. Awayes's interests and hobbies include plastic model construction of ships and aircraft from World War I and World War II as well as exploring different cities and collecting university banners from their bookstores, marking the territories he's visited.